THE HOPEFitness Sports Foundation combines exercising with fun to create a truly unique program. No matter age or Ability, HOPEFitness believes that every Individual has the right to a healthy lifestyle. Our facilities are designed to maximize participation and encourage members for ultimate success.
HOPEFitness does not only provide the means for weight loss, increased muscle strength and flexibility, but to most importantly give ALL Participants a safe and comfortable place. This will help them at home, work, school and in their personal and social lives.
GROUP FITNESS/SPORTS
CLASSES
GROUP FITNESS
Promotes interaction and pushes participants to meet their goals while working in a fun, high-energy environment beside their peers. Clients can choose fun safe weekly group classes such as fitness, yoga, dance, sport, etc. and have full use of the facility. ALL Levels & Ages Welcome! Remote Fitness Also Available
DANCE
Physically, dance/movement can improve mobility and muscle coordination, as well as reduce muscle tension. Emotionally, dance can help improve self-awareness, self-confidence and provide an outlet for Individuals to express and communicate feelings. ALL Levels & Ages Welcome! Remote Dance Also Available
SWIM (1 on 1)
Learn Basic Swim Safety Swimming supports your body and greatly reduces the effects of gravity. By simply allowing yourself to float in the water you alleviate pain and stress on your joints and even your muscles. This allows you to stretch and strengthen parts of the body that don't often experience a full range of motion.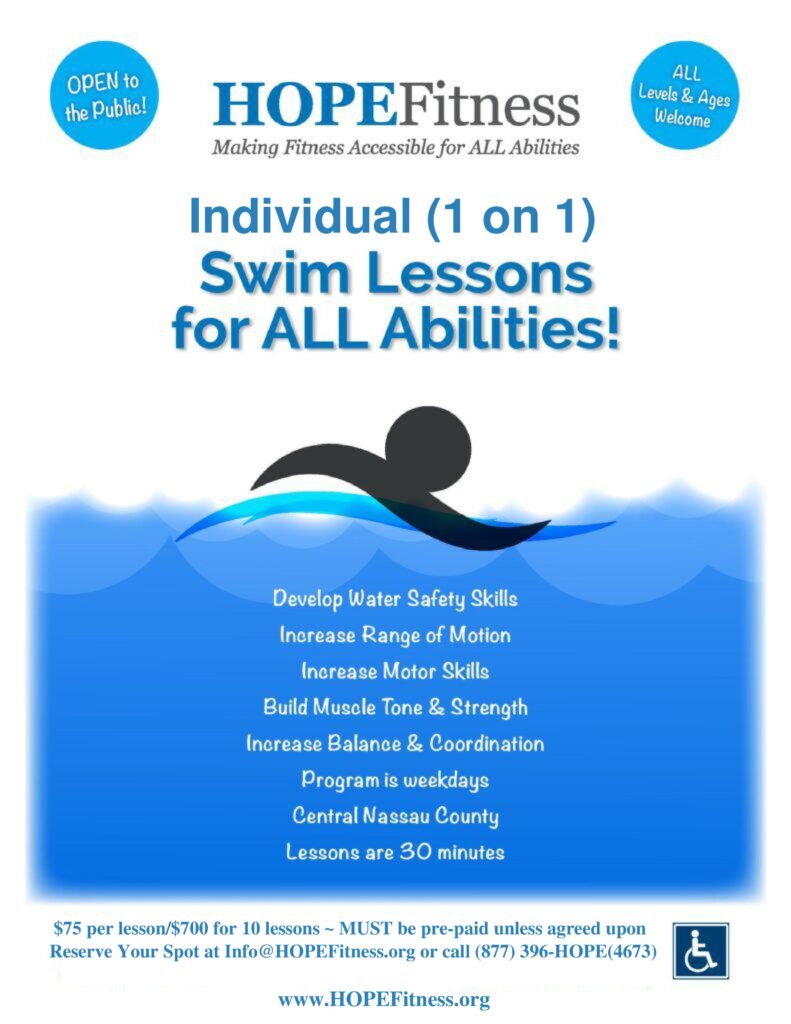 Camps, SCHOOLS & COMPANIES
HOPEFitness has been serving Camps, Schools and Companies since 2005. Schools and Companies are a welcome to come to one of our convenient locations or we will come to you. All Schools and Companies are also welcome to call on us for on-site services at any of their locations as well.
Individual (1 on 1) Training
One on one attention provides additional support. 6-8 sessions are recommended for maximum success. All individual sessions are 50 minutes. Discounted pre-paid packages available (for thoses not being reimbursed 100%). Please contact us to schedule an appointment. Home visits may be available based upon trainer availability.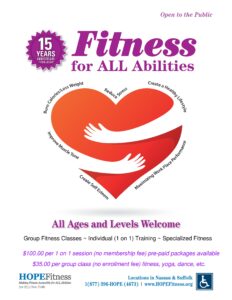 FITNESS FOR ALL AGES, levels &
ALL ABILITIES